Lupus Academy provides cutting edge SLE resources to healthcare providers in China with the support of Eurologos Shanghai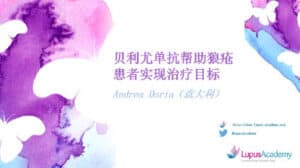 Welcome to the Lupus Academy
The Lupus Academy is a long-term initiative committed to improving patient outcomes in SLE and allied diseases. By providing a highly interactive educational forum, the Lupus Academy is dedicated to sharing best clinical practice through the dissemination and discussion of cutting edge scientific and clinical research.
 Sharing Knowledge to Work Towards a Common Goal
In 2020, Lupus Academy undertook an initiative to extend lupus knowledge to healthcare providers in China. Eurologos Shanghai was enlisted to help localise educational content including a series of video presentations covering the latest lupus studies and best practices according to distinguished professors and rheumatologists.
This year, in 2022, Lupus Academy invited Chinese medical experts and rheumatologists to attend a comprehensive live broadcast covering the latest therapies and treatment options for Lupus. In addition to localising presentations and related content, interpreting services for the virtual live broadcast were also planned and facilitated by Eurologos Shanghai.
Tailored Services for Any Request
After receiving the initial brief from Lupus Academy, Eurologos began a detailed screening process to secure the most suitable resources for this localisation project. Senior medical translators and designers were contacted based on their experience and expertise to work on the localisation and video production. As the project had various parts managed by different agencies, an action plan was formed to coordinate each step. Additional quality control steps were carried out ensure consistency. All aspects of the project were managed according to Lupus Academy's specifications in order to meet their tight deadline.
Tina Yuan, Eurologos Shanghai Manager