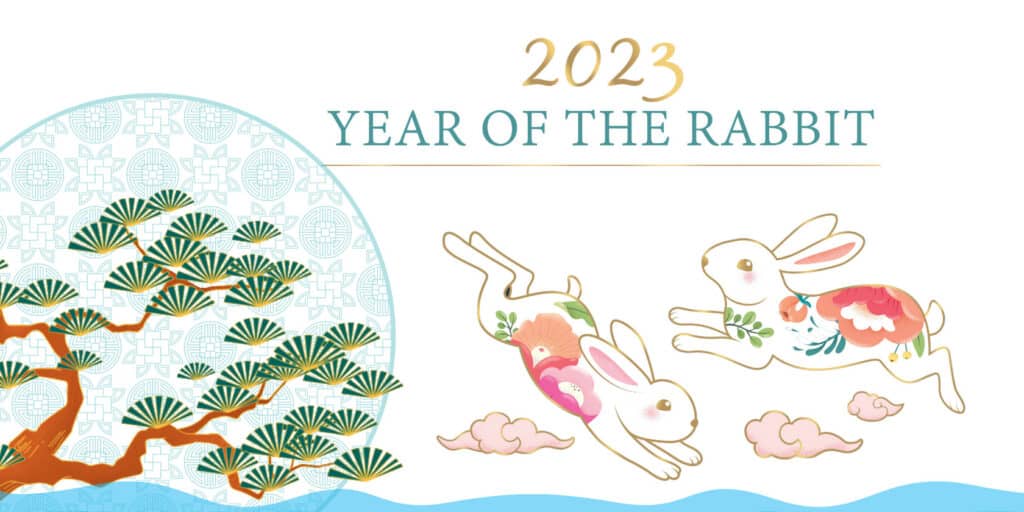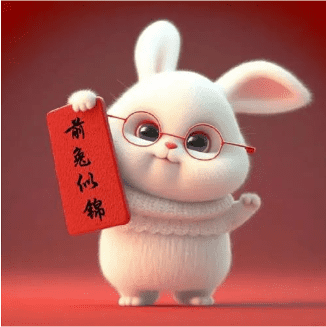 Chunjie, the first day of the Chinese Lunar calendar.
When Chunjie is approaching, Chinese people are busy purchasing goods, cleaning the house, cooking traditional Chinese food, making Spring Festival couplets and hanging spring festival pictures.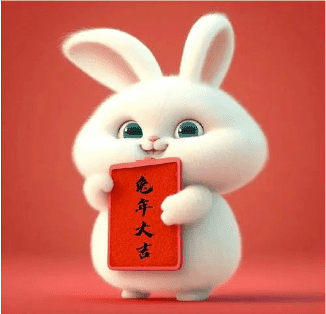 Spring Festival Travel Rush, a spectacular transport phenomenon in human history, is said to reach peak of 2 billion people during 2023 Chunjie. Having a family dinner is the main activity during Chunjie, dumplings are often being seen in traditional Chinese dinners, as they represent reunion and goodwill, the whole family gather to enjoy quality family time. During Spring Festival, people in new clothes visit each other and hand out "red packets" to kids to express their good wishes. All kinds of celebrations are held including temple fairs performances and lantern exhibitions, which lasts nearly half a month.
The Rabbit is the fourth sign of Chinese Zodiac.
The Rabbit represents people that are sort, quiet, loving men and women who speak gently and have a sturdy sense of justice plus a high appreciation of artistic beauty. The rabbit has represented hope to get a lengthy time, by Chinese individuals. It's tender and lovely. It really is tactful, discreet and accommodating.
Rabbit men and women are quite possibly the very best diplomats with the Chinese Zodiac. Often effectively groomed and nicely mannered, they are able to be depended upon to maintain up appearances. Rabbits are happiest among friends and safely within their established social circles. It is the Luckiest Chinese zodiac sign among the all signs, Rabbit folks are also talented and articulate. The rabbit, in reality is frequently civil even to those that are considered to become an enemy.
The Rabbit Chinese Zodiac is characterized by deliberate actions, a huge amount of seriousness, as well as the capability to have a look at scenarios from several sides with a clear-headed strategy. Like the animal that acts as their mascot, folks born under the Rabbit Chinese Zodiac are flexible, clever, and good at obtaining ways of individuals born within the Rabbit comprehend what life actually indicates. They get excited regarding the great along with the negative in their own life and accept the exact same from other individuals. They are outstanding negotiators for themselves and for their organizations. The Rabbit is intelligent in enterprise and includes a creative mind
For the past couple of years, due to the world-wide pandemic, we all have experienced difficult times, whether it's good or bad, we are grateful for everything we have encountered.
What's past is prologue, may all good things come as expected in 2023. Happy Chinese New Year 2023 and best wish to you all from our Shanghai Team!